This post may contain affiliate links. If you buy thru these links, we may earn a commission at no additional cost to you.
---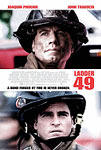 I didn't know much about the movie Ladder 49 before I rented it this past weekend.
Jim would never go see it at the movies with me — he thought it would be too "fake" or too glamorizing of firemen.
His dad was a fireman. I guess he takes it personally.
Anyhoo…
The first thing I noticed when I put the DVD in: the lead actress was Jacinda Barrett. Who's that, you ask? She's the girl from MTV's The Real World (London). And I had no idea she'd been in so many other movies! (Here are some other interesting tidbits about her.)
Now, onto the movie — Ladder 49.
Fast-Paced Action & Drama
Fun, fun, fun.
It's a rollercoaster ride of emotional ups & downs, but there's a TON of humor and good-hearted fun all throughout the movie as well. There are lots of great "gotchya" moments tossed in, which catch you (and the characters) completely off-guard and keep the movie rolling along at a fairly fast pace.
As far as I can tell, it's a real enough depiction of "the life of a firefighter" …for me anyway.
(…it's also from "way" back when gas was only $1.43/gallon — as evidenced by the gas station prices in the background.)
I really dig the whole "fraternity" thing — the "brotherhood of firemen". It's like second family… people who are there for you no matter what. That point was really well emphasized in this movie.
How Real Is Real?
On the DVD for Ladder 49, the guys who made the movie talked a lot about how ALL of the fire scenes were real. They spoke with Ron Howard about how he made the "other" landmark movie about firefighters (Backdraft), and the one thing they all agreed: You can't have a movie about fire and use CGI to create flames — it just doesn't work.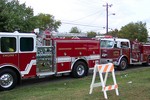 As a result, there were no digital effects in this movie, and every single actor had to go through 2 weeks of Fire Academy Training. There were some close calls on the set, too.
This movie also shows the laid-back, casual (and FUN) side of the men behind the hardhats & masks, boots, and heavy fireproof coats. For one, firemen tend to play a lot of pranks on one another. To help them pass the time between fires, they become a bunch of practical jokers.
In addition, this movie honors firemen. It truly attempts to capture the humanity of a firefighter.
Someone on the DVD's bonus features mentioned:

"It comes down to this: Why do some men run into buildings that other men are running out of?"
…THAT is the personality, drive, and integrity of a fireman. And Ladder 49 does a great job at shining some light on the behind-the-scenes life of a fireman — what they're like personally and professionally.
Sexy On A Whole New Level
This movie only confirmed my opinion that firemen are the SEXIEST men alive. Good-looking or not, their determination and integrity make them incredibly cool on a whole 'nother level.
Jim's dad was a fireman.
The closest Jim got was when he was little he always used to say he wanted to be "a firetruck" when he grew up.
My brother also went through fireman's training, but took another full-time gig while waiting for a rare vacancy at the firehouse in our small town.
You'll Learn A Lot About Firemen
I learned the difference between a "truckie" and an "engine man" (the CLEAN version):
Truckie – A firefighter who goes into a fire before the engine crew without any water to search for victims when the fire is the hottest and the smoke is the darkest.
Engine Man – A firefighter who goes into a fire after a truckie and puts water on the fire. These guys operate the water hoses.
More about truckies vs engine guys
Words & Music By Robbie Robertson
And, like a handful of other movies I've rented recently, Ladder 49 has that one great song that…
…summarizes the movie with its words and melody
…rolls through the credits
…introduces you to a singer you've never heard of before
…makes you glad you sat through the credits
This time, it's Robbie Robertson singing "Shine Your Light" for the Ladder 49 Soundtrack. AWESOME. Firemen and those who've lost "heroes" will especially enjoy it!
Here's the full-length video of Robbie Robertson's song "Shine Your Light" from the movie Ladder 49. It's 10 MEG, so it takes a few minutes to load, but I think it's worth it. It features Robbie himself and Jacinda Barrett (the lead actress from the movie who was also in MTV's Real World).
More about Robbie Robertson (…he was part of Bob Dylan's band, also a movie actor & producer, and he's written several hit songs for some big-name artists).
"Shine Your Light" Lyrics
(written and sung by Robbie Robertson)
The cry of the city like a siren's song
Wailing over the rooftops the whole night long
Saw a shooting star like a diamond in the sky
Must be someone's soul passing by
These are the streets
Where we used to run where your Papa's from
These are the days
Where you become what you become
These are the streets
Where the story's told
The truth unfolds
Darkness settles in
Shine your light down on me
Lift me up so I can see
Shine your light when you're gone
Give me the strength
To carry on, carry on
Don't wanna be a hero
Just an everyday man
Trying to do the job the very best he can
But now it's like living on borrowed time
Out on the rim, over the line
Always tempting fate like a game of chance
Never wanna stick around to the very last dance
Sometimes I stumble and take a hard fall
Lose hold your grip off the wall
Shine your light down on me
Lift me up so I can see
Shine your light when you're gone
Give me the strength to carry on
Carry on
I thought I saw him walking by the side of the road
Maybe trying to find his way home
He's here, but not here
He's gone, but not gone
Just hope he knows if I get lost
Shine your light down on me
Lift me up so I can see
Shine your light when you're gone
Give me the strength to carry on
To carry on
The First Firefighter Movie After 9/11
By the way, this movie was written before September 11, 2001, yet it was the first "real" movie about firefighters to come out after 9/11. And while it has nothing to do with the events of September 11th, I think this movie is a class act, and an exceptionally fine tribute to firefighters of yesterday, today, and tomorrow.
Movies like Ladder 49 help to remind us of all that we take for granted on a daily basis, and those who regularly put their lives on the line for others.
Like all servicemen and women, they're all heroes. What it comes down to is: Courage.
In fact, Joaquin Phoenix, said on the DVD bonus features:

"There's a poster in the firehouse that says, 'Courage is not the absence of fear, but the realization that there's something more important than fear.' I think that's what it's all about for firefighters."
Well said, Joaquin.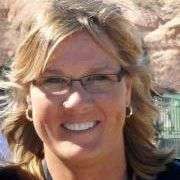 I like to help people find unique ways to do things in order to save time & money — so I write about "outside the box" ideas that most wouldn't think of. As a lifelong dog owner, I often share my best tips for living with and training dogs. I worked in Higher Ed over 10 years before switching gears to pursue activities that I'm truly passionate about. I've worked at a vet, in a photo lab, and at a zoo — to name a few. I enjoy the outdoors via bicycle, motorcycle, Jeep, or RV. You can always find me at the corner of Good News & Fun Times as publisher of The Fun Times Guide (32 fun & helpful websites).