---
This post may contain affiliate links. If you purchase through these links, we may earn a small commission at no additional cost to yourself.
---
Every now and then I've got to jump on my soapbox and make a little noise. Maybe rattle a few cages or something.
As many of you know I do some PR and marketing work from some drag racers. Melanie Troxel is not one of them. For those that don't know who Melanie is, spot me 100 words or so here and you can have a chance to vote for her to win an ESPY.
Melanie is the pilot for the Skull Gear, TORCO Race Fuels, top fuel dragsters racing out of the Don Schumacher Racing camp.
Mel has dominated NHRA Top Fuel Drag Racing this season. According to CompetitionPlus.com, she set an NHRA record for the most consecutive final-round appearances (five) to open a season in Top Fuel. She's also the quickest (4.458 seconds) and fastest (331.04 mph) female racer in NHRA history. Should she finish the season first in points, she would become just the second woman to win an NHRA Top Fuel world championship title. Legendary Shirley Muldowney earned three during her driving career.
A first in motorsports history, earlier this year Troxel won the prestigious Driver of the Year first-quarter award by a distinguished panel of auto racing journalists. It is the first time in the 40-year history of the Driver of the Year award that a woman has won the quarterly vote.
No drag racer has ever won an ESPY.
Who's she up against? ESPY Best Driver ballot includes NASCAR drivers Jimmie Johnson and Tony Stewart and IRL drivers Sam Hornish and Dan Wheldon.
My question – does she have a chance against NASCAR favorites? Are her accomplishments enough to overcome the household names she's up against?
So, my point to all of this you ask? Melanie has been nominated as Female Athlete of the Year and Best Driver of the Year. Fans can vote and help her get an ESPY here. Voting ends this Sunday, July 9th at midnight. So, VOTE NOW.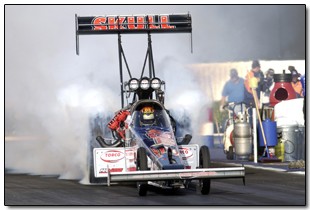 Jeep guy. Harley owner. Publisher of a few of dozen websites. Tech geek. And I get to play on the Internet for a living!