This post may contain affiliate links. If you buy thru these links, we may earn a commission at no additional cost to you.
---
Yeah, it's funny alright when someone mispronounces the name of a Major League ballpark (like Jeff Gordon calling Wrigley Field Wrigley Stadium), and with all the high-dollar naming rights changing hands back and forth, who can keep 'em all straight anyways?
Listen to ESPN's replay of Jeff Gordon and Ozzy Osbourne (separately) singing "Take Me Out To The Ballgame"… or trying to anyway.
Major League Baseball Parks
Here's a fun look at the Major League baseball parks and how they got where they are today.
For example, did you know that?…
…The Baltimore Orioles' Camden Yards was built on land that once was occupied by Babe Ruth's father's saloon.
…Some seats at Petco Park feature computer technology that allow fans of the San Diego Padres to surf the Internet, check out their favorite players stats, or order food from their seats.
…Only one thing was transferred from the old Chicago White Sox Comiskey Park to U.S. Cellular Field: the dirt from the infield.
…Yankee Stadium has been home to more Hall of Famers, and more than two dozen World Championship teams, than any other stadium ever built?
…Nostalgia hangs its hat at Ameriquest Field — from the manual scoreboard in left field, to the brick Walk of Fame that spans the entire ballpark, containing info and rosters of every Texas Ranger team.
…In 1960, Gene Autry founded the Los Angeles Angels, but they didn't have a stadium to play in. Anaheim Stadium was built in 1966, and through the years this ballpark has undergone a number of significant changes, including a name change in 2003 to Angel Stadium.
…Chase Field (formerly known as Bank One Ballpark) was the first stadium ever built to have a retractable roof (that closes in 5 minutes and has air conditioning!) and natural grass. Luckily fans of the Arizona Diamondbacks don't have to withstand the scorching Arizona heat.
…Approximately 5,000 outfield seats in Busch Stadium were replaced by a huge manual scoreboard. This area also contains retired numbers, championship flags, and various forms of memorabilia from the St. Louis Cardinals.
…A 2% rental car tax, largely paid by visitors, was the only tax increase needed to finance Citizens Bank Park in Philadelphia. In fact, the Phillies paid for all construction overruns and to this day, the team maintains the ballpark.
…Consisting of three levels, the view from any seat at Comerica Park is virtually obstructed. Plus, nearly all of the seats give Detroit Tigers fans an excellent view of downtown Detroit.
…Coors Field is located 21 feet below street level. Its old-fashioned brick facade allows this Colorado Rockies ballpark to blend into downtown Denver.
Listen to Bud Light's Real American Heroes "Mr. Outside The Stadium Peanut Seller":
https://thefuntimesguide.com/wp-content/uploads/Bud_Light_Real_American_Heroes_Mr_Outside_The_Stadium_Peanut_Seller1-1.mp3
…Every off season, Dodger Stadium is given a fresh coat of paint, so the ballpark always looks fresh and new to L.A. Dodgers fans.
…Formerly known as Joe Robbie Stadium, Dolphins Stadium was the first one built primarily for football, and later used for baseball. Wayne Huizenga, owner of the Miami Dolphins and the stadium, announced that the Marlins would not be able to play at the stadium after the 2010 season.
…Fenway Park remains the oldest major league ballpark in use. Home of the Boston Red Sox since 1912, this ballpark looks much as it did when it opened.
…The Great American Ballpark, home to the Cincinatti Reds, has of the largest scoreboards in baseball, located above the stands in left field. It blocks the view of U.S. Bank Arena.
…In addition to numerous modern conveniences, throughout Jacobs Field are several electronic entertainment areas for Cleveland Indians fans to enjoy. "The Jake", as it is known, continues to be one of baseball's pristine ballparks.
…The Kansas City Royals' Kauffman Stadium has water fountains beyond the outfield fence. The fountains stretch 322 feet horizontally and feature a 10-foot high waterfall that descends from an upper cascade pool which serves as a backdrop for two water fountain pools.
…In 1962, McAfee Coliseum was constructed deep in the ground, allowing fans to enter on the upper deck level. Currently, the Oakland A's are exploring their options with regard to building a new stadium.
…The Metrodome, home to the Minnesota Twins, was name
d after former Vice President, Hubert H. Humphrey. The H.H.H. Metrodome opened on April 3, 1982.
…Miller Park has no air conditioning, but an air circulation system keeps the ballpark thirty degrees above the outside temperature when the roof is closed, so fans of the Milwaukee Brewers always remain cool.
…Minute Maid Park was built on a 25-acre site in downtown Houston. A 1911-vintage Union Station forms the ballpark's main entrance and adds a unique character to the Astros' home.
…At PNC Park, fans of the Pittsburgh Pirates can walk around the entire main concourse of the stadium without losing sight of the field.
…After a 33 year hiatus, Major League Baseball returned to RFK Stadium in April 2005. It is now the shared home of the Washington Nationals and the D.C. United (MLS).
…The Toronto Blue Jays' Rogers Centre was the first of its kind in any sport: It was the first stadium with a retractable roof, allowing any sport to be played indoors or outdoors.
…When open, the retractable roof at Safeco Field sits above and behind the right field seats. A simple push of a button closes/opens the roof in about 15 minutes. Seattle Mariners fans will always stay dry, but this one doesn't enclose the sides of the park, allowing for an open-air feel.
…At SBC Park in San Francisco, bleaches are located behind the left field fence. However, there are no seats behind the right field wall because of McCovey Cove, part of the San Francisco Bay. There is enough room where Padres fans can walk behind the right field wall and can see through the screened and brick right field fence.
…Located near Laguardia Airport, Shea Stadium features a Mets Magic Hat behind the center field fence — whenever a Mets player hits a homerun, an apple rises out of the hat.
…Tropicana Juice has naming rights on the Tampa Bay Devil Rays' field until 2019. Thus, it will be known as Tropicana Field for some time to come.
…Temporary bleachers were built beyond the Turner Field outfield fence for a bigger capacity for the Olympics. After the games ended, the stadium was retro-fitted, and converted to baseball, home to the Atlanta Braves.
…The Chicago Cubs' Wrigley Field is the last Federal League ballpark still standing. Even with lights, Wrigley Field is one of baseball's most old-fashioned parks and has basically remained advertisement-free.
RELATED:
Ballparks of Baseball — little-known facts about all of the major league baseball parks, including road trip tips, seating charts, directions & parking info… even webcams!
Ballpark Columns — the latest, up-to-the-minute news about baseball parks great and small.
Major League Ballpark Ratings — on a mission to rate (detail-for-detail) all 30 major league ballparks, these guys share their report cards for the baseball parks they've visited to date. Here's SI's take on the same thing.
UPDATE: Interesting… when I was researching facts for this article, I noticed that these showed up in top search terms people are looking for with the word "ballpark" in them:
"ballpark pizza" — I've always heard that hotdogs are the fan favorite at ballparks, but more people are searching for "pizza" than "hot dogs". (Must be because there's a pizza chain called "Ballpark Pizza"… with all this searching, it MUST be good!)
"ballpark sex" — huh? …does this replace the mile-high club?
It's 2008, and they recently added All-U-Can-Eat (and at some ballparks, All-U-Can-Drink) ticket prices at many U.S. ballparks!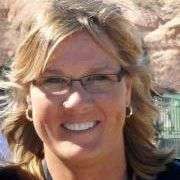 I like to help people find unique ways to do things in order to save time & money — so I write about "outside the box" ideas that most wouldn't think of. As a lifelong dog owner, I often share my best tips for living with and training dogs. I worked in Higher Ed over 10 years before switching gears to pursue activities that I'm truly passionate about. I've worked at a vet, in a photo lab, and at a zoo — to name a few. I enjoy the outdoors via bicycle, motorcycle, Jeep, or RV. You can always find me at the corner of Good News & Fun Times as publisher of The Fun Times Guide (32 fun & helpful websites).