---
Some articles on this site contain affiliate links. If you purchase through these links, we may earn a small commission at no additional cost to yourself.
---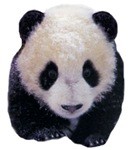 Following are links to "live streaming" animal cams featuring: baby pandas, elephants, giraffes, gorillas, apes, seals, black bears, polar bears, beluga whales, shamu, dolphins, and penguins.
First, check out this incredible live streaming video from a wildlife cam in South Africa!…
Botswana South Africa Watering Hole
Pete Le Roux, the general manager of Mashatu Game Reserve in South Africa, set out to protect Botswana's wildlife and give them room to run free in expanded territory. Concerned by the toll taken by wildlife poachers, Le Roux created his own watering hole in Africa. Then he set up a wildlife cam and began studying the animals there, with the greater vision to build links between all of the countries' national parks and reserves.
Pete's watering hole (also known as Pete's Pond) has been so successful at luring animals to this location that experts are concerned that some animal populations have outgrown the land.
What's cool is the fact that it's actually LIVE and you can hear the animals as they're walking into the water, the birds chirping nearby, and various animal ruckuses.
NOTE: The camera is stationary part of the time, then it spans around to various places near the watering hole at times. As a result, you never get bored just waiting for an animal to come "into the screen".
They tell you when the best viewing times are. I checked it out at 11AM on a weekday and saw A LOT of activity!
Embark on a quiet adventure and watch wildlife gather at Pete's Pond. Baby baboons scurry in the dust. Wildebeests push and shove to make room at the watering hole. Warthogs wallow in the mud.
They've also got a daily blog which details their study of animal behaviors at this watering hole.
UPDATE FROM ONE OF OUR READERS (2010)
"Pete's Pond is due to be shut down for lack of funding. Shut down date is 2/28/10. It's also not manned anymore. The Cam operator left. And just to add some corrections. Normally, they do not know when or what animals will show up. the cam used to pan at night, with live operator during the day. This is all gone as of Feb 2010."
UPDATE (2019)
The live cam feed for Pete's Pond is back up and running. However, they're still figuring out hardware and software issues. So it's kind of up and down.
Baby Panda Webcams
A panda cub was born at the San Diego Zoo on August 2, 2005.
According to the website: "Following Chinese tradition, she will be named at 100 days of age."
According to my calculation (though I'm very bad at math), this would be on or about November 10th. In which case, I think she should be named "Lynnette" in honor of my November 14th birthday. Check out their website to see what name they ultimately choose for this cute little panda cub!
Here's the live streaming Panda Cam from the San Diego Zoo. At this point, she's cute in that "ugly newborn baby animal kind of way"… The webcam does pretty much provide a round-the-clock view of her though.
Another baby panda was born on July 9, 2005 at the Smithsonian National Zoological Park. This one is a boy, and his name will be decided on October 17th.
"The July 9 birth of a male panda cub at the National Zoo generated 637,000 visits to the zoo's panda Web page over a three-day period, said Peper Long, a zoo spokeswoman. Source
This little guy is definitely in the prime of his "cute stage"! He's full of fur and loves to roll around and sleep in front of the camera.
In addition to the zoo's daily panda blog, featuring an update on the mother and baby, there are two camera views you can choose here:
Indoor Panda Cam (…usually see the baby cub rolling around or resting, or mother and baby hanging out; camera frequently zooms in and captures different angles)
Outdoor Panda Cam (…usually see the mother panda munching on bamboo)
EXTRAS: Panda fans will also enjoy the baby panda photos of this little guy, and the accompanying video. And don't miss this video of the panda cub's parents featuring their first days at the National Zoo.
Other Animal Webcams
There are kabillions of these things around, so I picked my personal favorites, based on the type of wildlife animals I most enjoy watching… (NOTE: Webcams are popular on weekends… which means you are more likely to receive "too many connections" errors.)
Sea Life Cams
Elephant Cams
Giraffe Cams
Primate Cams
Bear Cams
I like to help people find unique ways to do things in order to save time & money — so I write about "outside the box" ideas that most wouldn't think of. As a lifelong dog owner, I often share my best tips for living with and training dogs. I worked in Higher Ed over 10 years before switching gears to pursue activities that I'm truly passionate about. I've worked at a vet, in a photo lab, and at a zoo — to name a few. I enjoy the outdoors via bicycle, motorcycle, Jeep, or RV. You can always find me at the corner of Good News & Fun Times as publisher of The Fun Times Guide (32 fun & helpful websites).