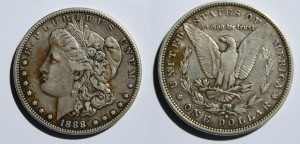 Silver coins have long been a popular investment vessel. Because of the bullion content, the value of many silver coins fluctuates based on the metals market.
Many of the most common silver coins – despite their high mintages – have gone up in value drastically over the years because of huge increases in the price of silver (though, historically, they have seen periods of price decreases, too).
Silver coins are popular among many not only because they are one of the cheapest types of precious metal coins, but also because many silver coins have beautiful or time-honored designs that are liked by many coin collectors.
Let's take a look at the value of these silver coins as well as a brief rundown on some of these popular pieces.
Jefferson Wartime Silver Nickels
Minted from 1942 to 1945 with a composition that is 35 percent silver (and 56 percent copper and 9 percent manganese). Nickel was removed from the composition to be used instead for World War II artillery. Wartime silver nickels can be distinguished from regular five-cent coins by the large mintmark seen over the dome of Monticello on the reverse of the coin. In fact, the 1942 wartime nickel was the first U.S. coin to bear a P (Philadelphia) mint mark. Values for circulated wartime nickels range from $2 to $3.
Mercury Dimes
Actually bearing the bust of Miss Liberty in a winged cap (not the Greek god Mercury, as commonly thought), Mercury dimes were minted from 1916 to 1945 and designed by Adolph A. Weinman. Most Mercury dimes are common, especially those from the late 1920s onward to 1945. The value of these silver coins is generally $3 and $5 in circulated grades.
Standing Liberty Quarters
Hermon A. MacNeil's Standing Liberty quarter was made between the years 1916 and 1930 and has long been a popular design. While many of the issues from 1916 to the early 1920s are scarce, virtually all from 1925 to 1930 are highly common and popular pieces among both coin collectors and silver investors. Values start at around $7 to $10 for common examples of Standing Liberty quarters in circulated grades.
Walking Liberty Half Dollars
Widely deemed one of the most beautiful silver coins ever made, Walking Liberty half dollars are highly popular coins that are, thankfully for those on a budget, not very expensive. Like the Mercury dime, The Walking Liberty half dollar was designed by Adolph A. Weinman. Common examples of the Walking Liberty half dollar, struck from 1916 to 1947, can be had for $9 to $12 and up.
Franklin Half Dollars
Immediately proceeding Walking Liberty half dollars in 1948, the Franklin half dollar was minted for 15 years until being replaced beginning in 1964 by the Kennedy half dollar. Franklin half dollars are by and large common coins and gaining in popularity among both coin collectors and silver investors. The value of Franklin silver half dollar coins starts at around $10.
Morgan Silver Dollars
One of the most famous silver dollars, Morgan dollars (a Liberty Head image designed by George T. Morgan) are widely sought by coin collectors and coin investors because of their size, heft, and classic design. Tens of millions of Morgan silver dollars were minted, and millions exist to this day. Many dates, most especially the 1921, are highly common. Most common dates made during the coin's 1878 to 1921 run can be had for around $30 and up in circulated grades.
Peace Silver Dollars
Anthony de Francisci's famous Peace dollar (minted 1921 to 1935) is another highly popular silver dollar. Many dates are somewhat scarce, though those from 1922 to 1926 are very common. The value of these silver dollar coins starts at around $30 to $35.
American Silver Eagles
When the United States Mint began making bullion coins in 1986, the American Silver Eagle quickly became a popular coin. The least expensive of the nation's bullion coins, the American Silver Eagle is popular among investors. However, with the beautiful Adolph A. Weinman Walking Liberty design seen on half dollars from 1916 to 1947, the American Silver Eagle is also a favorite among coin collectors, too. Values fluctuate based on prevailing silver values, but as of late these coins are worth around $35 to $40.
While the monetary value of silver coins is always in flux, what is stable about silver coins is this: their widespread appeal. No matter what happens to the value of any silver coins you buy, they are perennially popular among coin collectors and – at the very least – are worth their face value.