This post may contain affiliate links. If you buy thru these links, we may earn a commission at no additional cost to you.
---
I think most people who've tried Poo Pourri spray either:
Bought it as a gag gift (but had to try it out first).
Received it as a gag gift (and never thought they'd actually use it).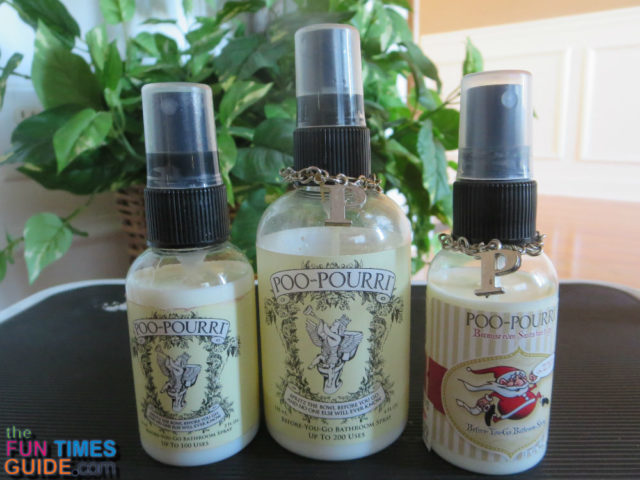 I am probably one of the few who bought this poop spray for myself because I actually looked forward to using it at home and when traveling.
Seriously. I can't stand the smell after using aerosol air fresheners in the bathroom. And I'm not crazy about that light, sticky film that lingers on everything in the room after spraying aerosols into the air either.
In case you don't already know… what makes the Poo Pourri spray different than most bathroom air fresheners is the fact that you spray it directly into the toilet bowl before you go, rather than spraying it into the air, after the fact.
Here's how it works:
I knew that the inventor of Poo Pourri toilet spray was onto something when she created this one-of-a-kind bathroom deodorizer. And I was even more impressed when I learned about the Poo Pourri ingredients. It's primarily made from all-natural 100% pure Essential Oils!
Here's the story behind Poo Pourri toilet spray:
Now, here's where it gets fun…
Starting with the Poo Pourri scents included in the original spray bottles, you can now make your own poop spray that works (and smells) very similar!
Following are some tips for finding the DIY Poo Pourri recipe you like best.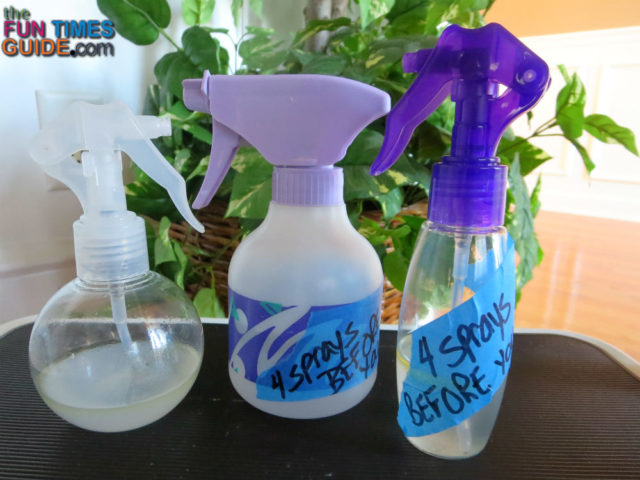 Good To Know Before Trying Homemade Poo Pourri Recipes…
My Favorite Original Poo Pourri Scents
These are the original Poo Pouri sprays that I've purchased myself, and I like best:
My Favorite DIY PooPourri Recipes
These are the homemade Poo Pourri recipes that I've made myself, and like best:
Sandalwood + Lemon + Lavender
Eucalyptus + Peppermint + Lavender
Peppermint + Lemon
Bergamot + Lemongrass + Grapefruit
How To Make Your Own Poo Pourri Recipe
Find a clean 2 oz (or 4 oz) spray bottle.
Combine 10 (or 20) drops of Essential Oils and 1 (or 2) tablespoons of Rubbing Alcohol in a small spray bottle first.
Shake to mix thoroughly.
Next, add water to the spray bottle, enough to almost reach the rim.
Shake extremely well — until you're confident that all of the different liquids are dispersed evenly throughout.
DIY Spray Instructions For Your Guests
Since most people are only familiar with a bathroom deodorizer that you spray into the air, it's important to have some instructions nearby informing your guests how to use the Poo Pourri spray.
Some DIYers make cute little labels for their bottles of homemade Poo Pouri spray. Others make a DIY 5×7 sign, frame it, and leave it in the bathroom spelling out the instructions.
For now, I'm just using a Sharpie marker to write on a piece of blue painter's tape and stick it onto the bottle itself. It's not "cute," but it works. I'm currently on the hunt for a fun frame to hang in each bathroom with the instructions.
This is the wording used on the original Poo Pourri bottle:
Spritz the bowl before you go and no one else will ever know!
This is the wording I use on my DIY Poo Pouri bottles:
Shake well.  Lift lid.  5 sprays before you go!
Reasons To Buy The Original Poo Pourri Spray
While I'm now making my own DIY poop spray at home and refilling the small bottles in my bathroom each time, I still recommend (and do) purchase the original Poo Pourri sprays on occasion.
The reasons:
No matter how close you get to the original recipe, nothing works as well and smells as great as the original Poo Pourri toilet spray.
Essential Oils can be expensive to keep repurchasing. For me, aromatherapy and mixing Essential Oils is kind of a hobby, so I always have a number of Essential Oils on hand. But if you don't use Essentials Oils a lot, it may seem like a chore to keep them on hand (and stored in a dark, cool area of the house at all times).
The original Poo Pouri spray makes a nice gift for a traveler… and will always be a fun gag gift at a party. For gifting purposes, you can't beat the original packaging and labeling that comes with it! Homemade versions are good enough for your own home, but when giving it as a gift, I stick with the original every time.
Any time I find it on sale (which is rare), I grab it! Three of the best places to look: Amazon, QVC, and Bed, Bath & Beyond (especially when you use their 20% off coupon).
And for my guest bathroom, I even bought one of these dark colored stainless steel toilet paper shelves to hold the Poo Pourri bottle:
A friend of mine has this toilet paper holder shelf in her bathroom and it looks really great because it's "rustic".
In case you're wondering, here's what it says on the original bottle of Poo Pourri Before You Go Toilet Spray:
This Before-you-go blend of Natural Essential Oils creates a barrier to embarrassing bathroom odor. 
Shake well. Lift toilet lid & seat. Spray directly onto the surface water (4-6 sprays). Proceed to use as usual.
Made in the USA. Never tested on animals. Biodegradable. No Parabens or Phthalates.
Here's a fun FAQ from the folks at Poo Pourri.
Like this post? Save it to read again later… or share with others on Pinterest!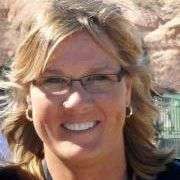 I like to help people find unique ways to do things in order to save time & money — so I write about "outside the box" ideas that most wouldn't think of. As a lifelong dog owner, I often share my best tips for living with and training dogs. I worked in Higher Ed over 10 years before switching gears to pursue activities that I'm truly passionate about. I've worked at a vet, in a photo lab, and at a zoo — to name a few. I enjoy the outdoors via bicycle, motorcycle, Jeep, or RV. You can always find me at the corner of Good News & Fun Times as publisher of The Fun Times Guide (32 fun & helpful websites).