This post may contain affiliate links. If you buy thru these links, we may earn a commission at no additional cost to you.
---
I'm a lifelong dog owner and my dogs have always gone everywhere with me, but I hadn't considered using dog car seat covers before now.
I have 3 dogs. One is a 90 lb. 12-year-old Black Lab. The other 2 are 7-month-old puppies. (We found them on the side of the road — so don't really know their breed. But they're around 35 lbs. right now.)
These are our 2 vehicles:
2014 Ford F150 truck
2017 Chevy Tahoe suv
The large dog usually rides in the back seat area of the pickup truck. It's a 4-door extended cab model that perfectly accommodates a large dog (when the back seats are folded up).
The puppies haven't been on many car rides yet. (The times we've taken them to the vet for their shots and to get spayed & neutered, one of us held them on our lap while the other one drove.)
Our plan has been to use the Chevy Tahoe as the primary dogmobile. We bought it soon after we got the puppies.
The timing was perfect when the folks at iBuddy asked if I'd be interested in reviewing their dog cargo cover!
I only review products that I would actually use and that I honestly see value in — so I thought long and hard before I said yes.
My delay was due to the fact that I had never intended to use a dog car hammock. We're pretty no-frills "jump in and go" dog chauffeurs (aside from a few important dog car safety items).
My initial thought was that a dog car hammock would take too much extra effort for our spontaneous car rides and/or it would not be something that I'd want to leave inside the car all the time — since we often have extra passengers whenever we go places.
Here's my review of the iBuddy dog seat protector and the 3 ways that it can be used…
#1 – It Can Be Used As A Dog Car Hammock
Let me start by saying…
If your SUV has rear bench seats (rather than bucket seats like mine does), then using this dog cargo cover as a dog car hammock would be perfect!
I've definitely changed my tune on the dog car seat hammock idea.
The iBuddy has lots of great features and "extras" like:
It's waterproof
Really durable
Has side flaps to prevent your dog from scratching your leather seats and doors
There's a mesh area between the back seat and the front seat, so your dog gets to enjoy the air conditioning and can still see you
It has bench seat anchors that resemble round, padded luggage handles (you push them down into the seat crack — between the seat back and the seat bottom — to keep this dog seat protector from shifting)
It's easy to attach (and remove) with quick-release clips and sewn-on adjustable straps
There are extra velcro-closure pockets for holding random small items — like wet ones (for muddy paws), a ball (for playing at the park), etc
A dog seat belt is included
Since the 2nd row of seats near the doors in my SUV are bucket seats (and there's a large, walk-thru area between them — instead of a solid bench seat) I can't use it as a hammock. Something like this dog seat protector would be better for covering 2 individual bucket seats that have such a large gap between them like mine.
I even tried to set it up as a dog car seat hammock in my 3rd row seats (as seen in the large photo above) — since that is a long bench seat. It looked great and would have been really handy idea for 2 puppies! However, there was no way to get the dogs into it — because there are no doors on the sides of the 3rd row seating. (Duh.)
I wish I could use the iBuddy seat cover as a hammock — because many of the "extras" are designed to work best when it's used as a hammock.
Oh well. Maybe in our next vehicle we'll be able to use it that way…
#2 – It Can Be Used As A Dog Cargo Cover / Liner
I use it as a cargo cover when all of my rear seats are folded down (including the 3rd row seats).
The iBuddy works great as a dog cargo cover — because it keeps pet hair from collecting on the backside of the seats!
As mentioned above, I wasn't really sure how I planned transport the 2 puppies inside this particular vehicle. But thanks to this dog car liner, I have now found a good method:
I put the 2nd row seats down.
Then I put the 3rd row seats down.
I put the iBuddy dog cargo cover down over the flat seat backs, securing it in place using the quick release clips.
The dogs seem to enjoy the extra space to roam inside the vehicle. The included seat belt keeps them from roaming too far. (I have another dog seat belt for the second pup.)
The best part: the backs of my car seats don't collect any fur! Since this is also the area where I tote my groceries from the store, this is important to me.
Also, years of experience have taught me that dog fur is next to impossible to remove from the 'carpeted' cargo areas and seat backs inside SUVs! With the iBuddy dog cargo cover, I just quickly unhook the 4 quick-release clips, slide the cargo liner out of the hatchback door, and toss away any dog fur that has collected. It's super simple.
When used as a cargo cover, the iBuddy liner covers that huge gaping hole between the 2 bucket seats in the 2nd row even when the seats are laid down flat, but it will start to sag there if the dogs stand in that "hole" too long. It's no big deal though — because the cargo liner still stays firmly in place since it's securely connected in each corner.
Plus, the puppies choose to stay mostly on the higher and flatter part anyway (so they can see out of the windows, I think). The small sagging area between the 2 bucket seats hasn't been an issue so far.
#3 – It Can Be Used As A Cargo Kennel
This is how I use the iBuddy dog car seat cover most of the time!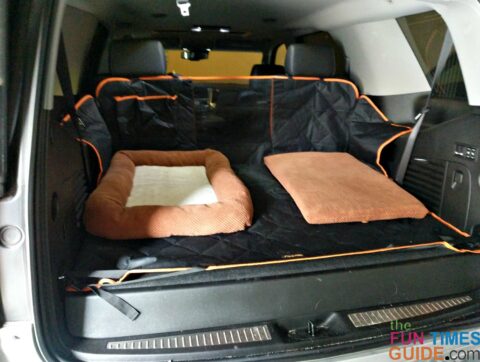 Why?
For these reasons:
I like being able to keep the dogs contained in a "relatively" small area — so the dogs can't get into things and explore.
I also like keeping the back seats available at all times — because we often drive friends around at the last minute.
Using the dog cargo liner in this way keeps your dogs in the far back cargo area of your SUV — so the back seats can still be used.
And no… the dogs cannot get into the back seats (or the front seats). It's completely blocked.
I like that there's a handy mesh area between the dogs and the back seats — so the car's AC and heat can reach them.
I actually keep the iBuddy dog car seat cover set up in my SUV like this year-round. But it's super easy to remove in a hurry — if we're not taking the dogs and need that extra 3rd row of seats for guests.
The Bottom Line…
I use the iBuddy seat protector as a dog cargo cover (I call it a cargo kennel area) most of the time — but it's a really great dog car hammock, too!
Honestly, I never thought I'd appreciate a dog seat protector (of any kind) as much as I do. I've had dogs all my life, and they go pretty much everywhere that I go in the car. I've never used seat protector before — but now I wish I'd thought of this sooner. The more I can cut down on dog fur accumulation (and dog drool) inside the vehicle, the better!
For what it's worth… we also have WeatherTech Floor Mats on all of our floor spaces in both the truck and the SUV. These durable floor mats make it a cinch to clean up dog messes like:
Muddy paws
Dog vomit
Dog poop (yep, it happened recently with our aging big dog)
And now with the floors and the backs of the seats being protected from dog fur, I don't worry about driving other passengers in our car anymore. They can't even tell we've had dogs in the vehicle!
Must read: Dog Hot Car Laws & What You Should Do If You See A Dog Left In A Hot Car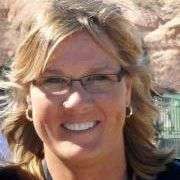 I like to help people find unique ways to do things in order to save time & money — so I write about "outside the box" ideas that most wouldn't think of. As a lifelong dog owner, I often share my best tips for living with and training dogs. I worked in Higher Ed over 10 years before switching gears to pursue activities that I'm truly passionate about. I've worked at a vet, in a photo lab, and at a zoo — to name a few. I enjoy the outdoors via bicycle, motorcycle, Jeep, or RV. You can always find me at the corner of Good News & Fun Times as publisher of The Fun Times Guide (32 fun & helpful websites).